Delray Orthodox Synagogue
DELRAY ORTHODOX SYNAGOGUE
"A Jewel of a Shul"
7319 W. ATLANTIC AVENUE
DELRAY BEACH, FLORIDA 33446
561-499-0970
RABBI MENACHEM JAROSLAWICZ
BERNARD LEIBMAN, PRESIDENT
ROCHELLE RUSH, SISTERHOOD PRESIDENT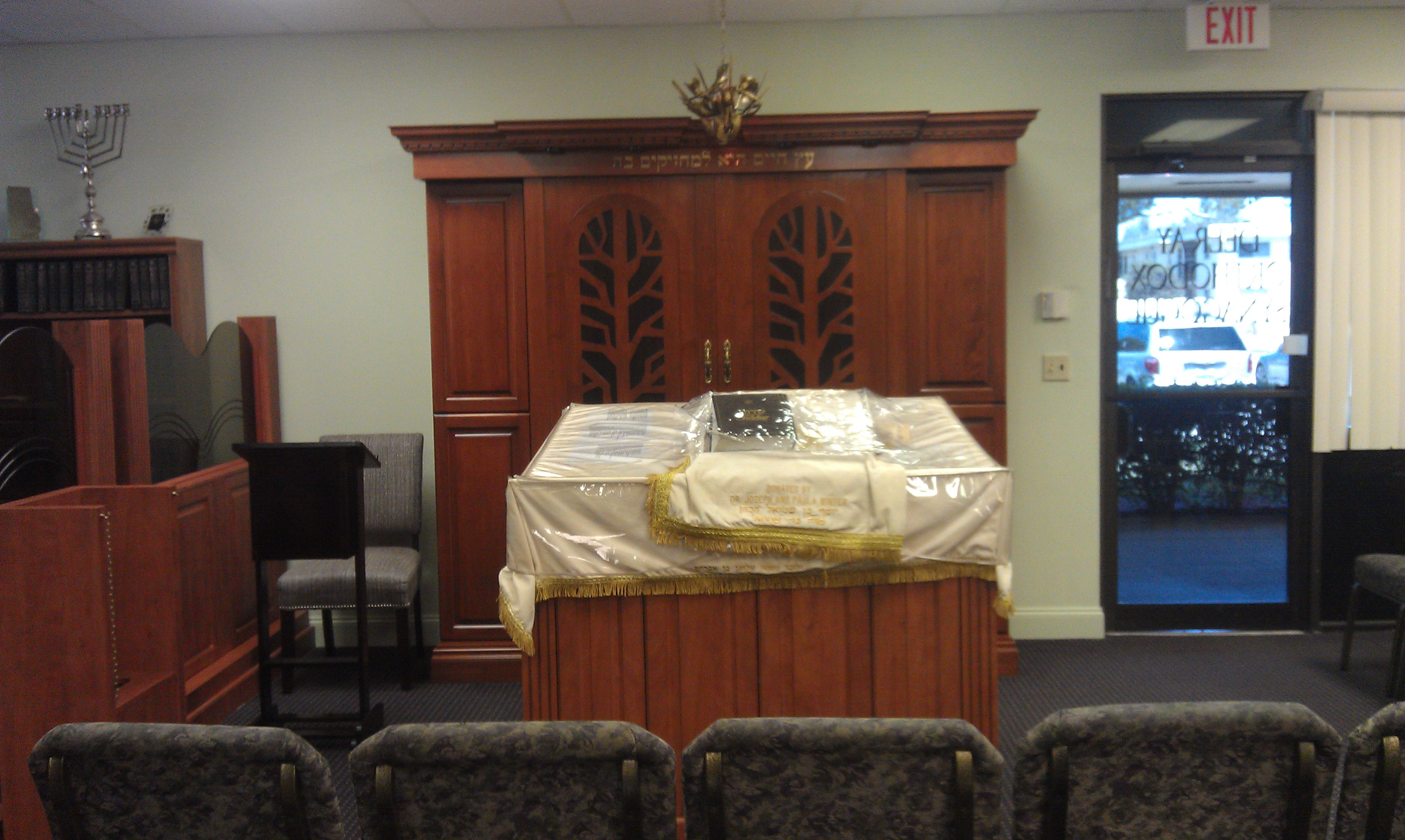 To request info, a change or add something to the site, send feedback, send a message, or inform us of a condolence or a Mazel Tov, Email: Delray Orthodox Synagogue
Rabbi's message:
"Va'tailaich lidrosh es Hashem" (And she went to inquire of G-d). (Beraishis 25:22)
"Sh'yagid lah mah te'hey b'sofo" (So they should tell her what will be in the end). (Rashi, ibid.)
In the beginning of Parshas Toldos, we are informed that our matriarch, Rivka, was confronted with an internal struggle, literally. Unaware that she was carrying twins, the apparent behavior of her unborn child seemed totally confusing to her.
The Torah tells us that the two brothers were fighting in the womb. Rashi explains that, when they passed a House of Worship, the righteous brother, Yaakov, struggled to "get out" -- wishing to participate in the Torah study that was going on without him. On the other hand, Eisav, the wicked of the two brothers, struggled to exit when his mother passed a place of idol worship -- in order to join them.
Rivka, thinking that this was one and the same child, was very unsettled. What exactly does this child want? He is obviously very intelligent and, even from within the womb, aware of what is going on in the outside world. But, at the same time, this highly-advanced child seems confused. Which one will it be? Holy spirituality or idol worship? You can't have both!
Even in our generation, we are confronted on a daily basis with this very same debate. Which do we choose? Spiritual loftiness or physical pleasures?
I do not know of a family anywhere, in any sect of Judaism, whose children are safe from being subjected to this age-less temptation. When confronted with good and evil, our minds might be screaming, "Choose the good!" but our actions are more susceptible to succumb to the negative temptations.
How many parents have mimicked the famous query first asked by Rivka Imainu: "Im kain, lamah zeh anochi" (If this is so, for what do I need this)?
A religious parent or grandparent who sees the signs of a child or grandchild straying from the flock c"v, because of bad friends, peer pressure and the like, need to know how to deal with that particular child.
The Torah teaches us these stories so that we may learn from them. How did Rivka react when challenged with this situation?
"Va'tailaich lidrosh es Hashem." And she went to inquire of G-d.
Guidance. Help. Rabbis. We need to call upon people who are in a position and are trained to deal with these cases. Too many times, parents are ashamed to tell anybody what they are going through. They end up trying to solve these problems themselves, unprepared and unequipped. All too often, the parent is too involved to make quality choices.
People need to understand that they are not alone. Many others are dealing, unfortunately, with these very same issues.
And then Rashi tells us why Rivka went to the Rabbis:
"Sh'yagid lah mah te'hey b'sofo." So they should tell her what will be in the end.
Sometimes we need to be able to see the distant future and aim for that. The road getting there can be very bumpy. If you know that, with the proper guidance, you will eventually achieve your goal, it makes hard times much easier to traverse.
There are times that call for discipline and there are times that call for tolerance and patience. Knowing which to choose, and when, is where guidance is needed.
If we are true to ourselves, we will realize that this is not just a struggle for children. This is the daily struggle that each of us has with the Yeitzer Horah every single day. Spirituality or physicality? Is there a place where the twain can meet? Or must it be one or the other?
We must recognize that this internal debate is as old as Adam, Eve, the snake and the Garden of Eden. But we must also acknowledge that the solution is almost just as old.
"And she went to inquire of G-d." G-d and ONLY G-d is the source of any and all salvations. If we seek Him out, if we trust in Him and then listen to Him, we will surely merit receiving positive results to all of these situations.
Good Shabbos
Rabbi Menachem Jaroslawicz
---
Delray Orthodox Synagogue, more commonly referred to as DOS, is a vibrant Modern Orthodox Synagogue serving the spiritual and social needs of its members. DOS provides daily minyanim, Torah learning, and interesting lectures by guest speakers. The very active membership committee is always on the lookout for new members and interesting ways to provide learning in an interactive environment. DOS serves a wide community area surrounding the Oriole shopping center.
We hope you will come and join us for a Shabbos, a service, or one of our weekly lectures.We are confident you will find DOS a delightful and warm environment and one you will look forward to experiencing again and again.
Tue, 6 December 2016 6 Kislev 5777