DELRAY ORTHODOX SYNAGOGUE
"A Jewel of a Shul"
7319 W. ATLANTIC AVENUE
DELRAY BEACH, FLORIDA 33446
561-499-0970
RABBI MENACHEM JAROSLAWICZ
BERNARD LEIBMAN, PRESIDENT
ROCHELLE RUSH, SISTERHOOD PRESIDENT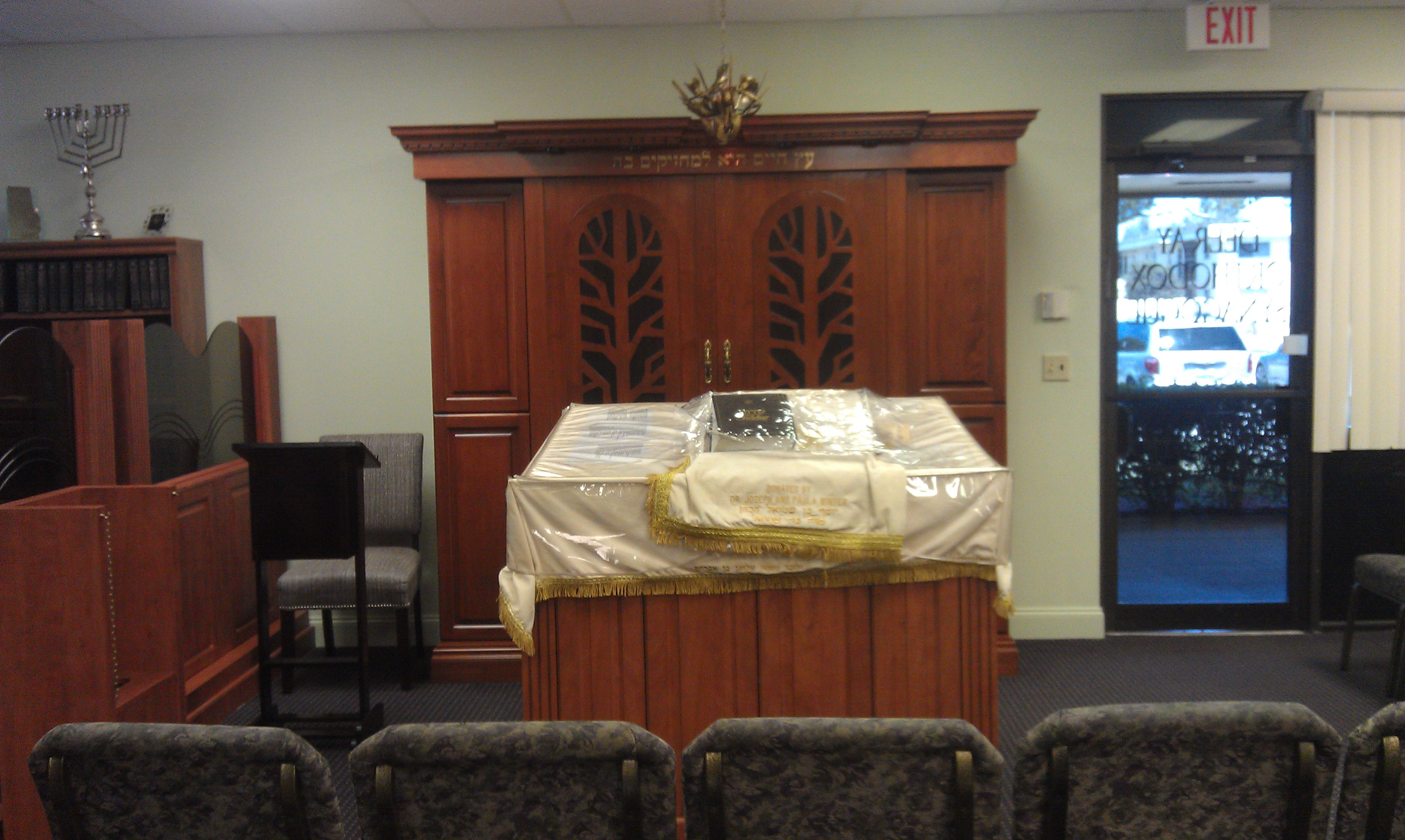 WELCOME TO THE WEBSITE OF
DELRAY ORTHODOX SYNAGOGUE (DOS)
To request info, a change or add something to the site, send feedback, send a message, or inform us of a condolence or a Mazel Tov, Email: Delray Orthodox Synagogue
TORAH THOUGHT FOR THE WEEK:
PARSHAS KI SAVO
Copied from Aish Hatorah
Deuteronomy 26:1-29:8
"I'll Do It Tomorrow"
Today, Hashem, your God, commands you to perform these decrees and the statutes... (Deut. 26:16)
People often say, "I don't have time to work on figuring out all the big questions of life today, but there's always tomorrow. Then I'll have plenty of time to do it." Tomorrow comes and they say the same thing. This can go on and on for years, until an entire lifetime has passed! Addressing this danger, the Torah says, "TODAY, Hashem, your God, commands you to perform these decrees." (1) The Torah is telling us not to procrastinate. We must not push off our spiritual obligations.
Each day in a person's life carries with it its own challenges and mission. What is to be accomplished today cannot be postponed for tomorrow, because tomorrow has its own set of challenges. The verse states "Avraham and Sarah were old, well on in years..." (2) Literally, the expression means "they came with days." The Zohar explains that Avraham and Sarah came through life with all their days intact, for they had utilized them all to the maximum.
The mishnah in Pirkei Avos teaches, "Do not say, 'when I am free I will study,' for perhaps you will not become free." One should never postpone learning Torah to a more opportune time since it may never come. Every day has its preoccupations and distractions. The Kotzker Rebbe explained the Mishnah with a slight twist: "Don't wait until you are free to learn, for your special task in life may be to learn while under stress and pressure." If you wait until the pressure subsides, you may end up waiting forever!
NOTES
1. Chofetz Chaim.
2. Bereishis 18:11.
Delray Orthodox Synagogue, more commonly referred to as DOS, is a vibrant Modern Orthodox Synagogue serving the spiritual and social needs of its members. DOS provides daily minyanim, Torah learning, and interesting lectures by guest speakers. The very active membership committee is always on the lookout for new members and interesting ways to provide learning in an interactive environment. DOS serves a wide community area surrounding the Oriole shopping center.
We hope you will come and join us for a Shabbos, a service, or one of our weekly lectures.We are confident you will find DOS a delightful and warm environment and one you will look forward to experiencing again and again.
DOS Bar Mitzvah Celebration 2017
Sun, September 24 2017 4 Tishrei 5778