Delray Orthodox Synagogue
DELRAY ORTHODOX SYNAGOGUE
"A Jewel of a Shul"
7319 W. ATLANTIC AVENUE
DELRAY BEACH, FLORIDA 33446
561-499-0970

RABBI MENACHEM JAROSLAWICZ
BERNARD LEIBMAN, PRESIDENT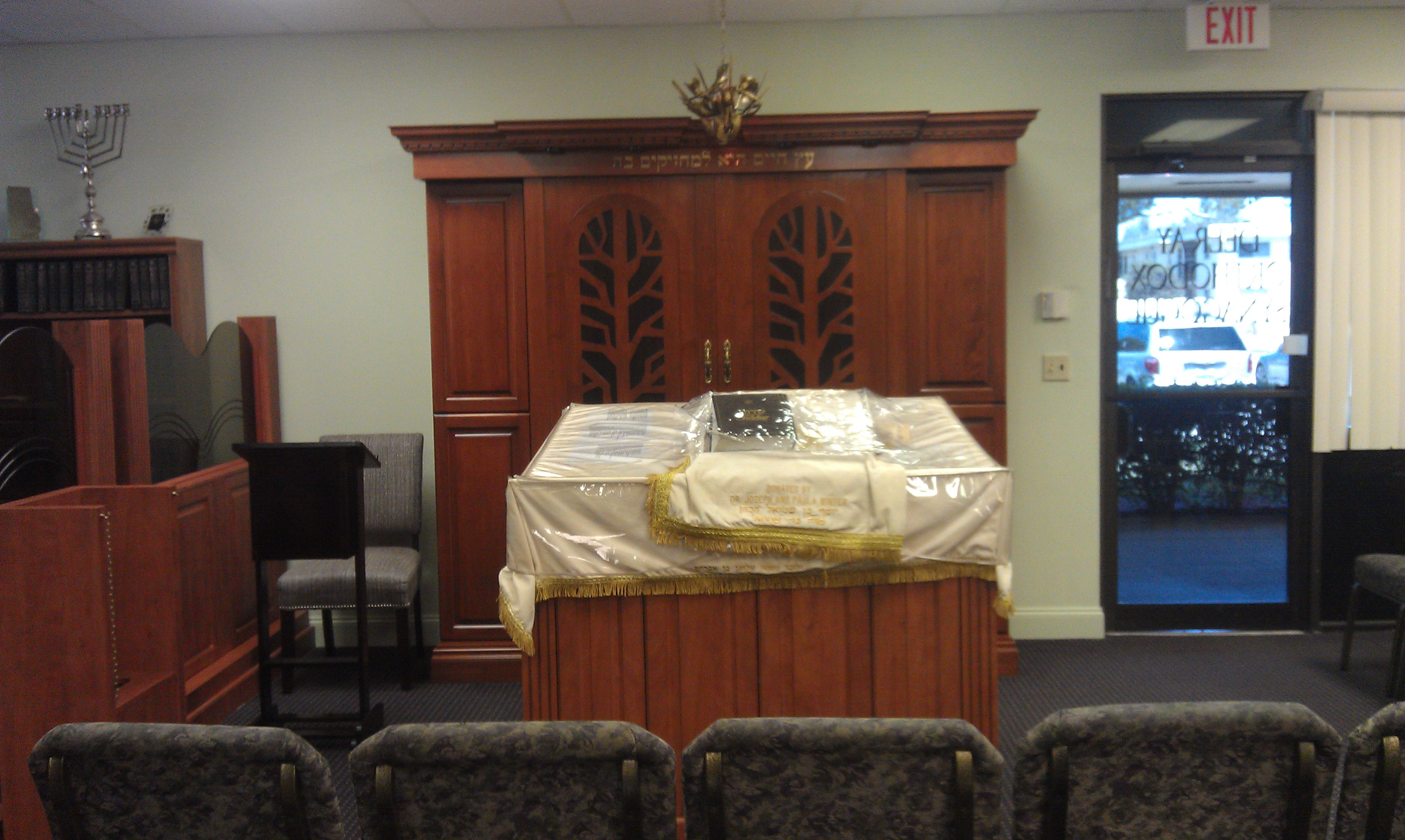 Welcome to the DOS Website
You will have a seamless experience with our website on your PC, iPhone, Android, or other smartphone. You can view site contents, make donations, view the schedule and zmanim.
Members can logon to view info, pay bills, and more,
ALL while on the go!
New Torah Dedication
Click on the following link to view the article
on the dedication of our new Torah by Joe
and Judy Kaufer:

Torah Dedication
Rabbi's message:
This week's Parsha begins with Hashem telling Moshe to relate the following to the Children of Israel:
"V'yikchu lee Terumah – And they shall take for me an offering."
The Pasuk continues to say: "Ma'ais kol ish asher yidvehnu leebo - Take my offering from everyone whose heart impels them to give."
Rashi teaches us that there are actually three different types of terumah offerings, monies given for the Mishkan. The one that was given for the "pillars" of the Mishkan and the one given for the "animals needed for the communal offerings" were mandatory donations. The third Terumah was voluntary.
An average person was expected to give 1/50th of their crop as terumah.
The Yismach Moshe has a very beautiful interpretation of this first Pasuk. He translates it as such.
"V'yikchu lee," - and YOU (Moshe) shall be taken for me, "terumah," – as an uplifting, "Ma'ais kol" – from amongst all (the entire world).
What he means to say is that Hashem is telling us that Moshe Rabbeinu will be the "terumah," the "gift to Hashem," from the entire universe.
Chazal teach us that the earth as we know it will exist for only six thousand (6000) years.
One day in "Hashem" time is equal to one thousand (1000) years in current "human" time. Just as Hashem created the world in six days and on the seventh day He rested, so too, the world will exist for six "G-d" days, the equivalent of six thousand human years, and on the seventh day He will once again rest. The world as we know it will cease to exist, and we will enter into the Messianic era.
One fiftieth (1/50) of six thousand (6000) is equal to one hundred and twenty(120). Moshe Rabbeinu lived for one hundred and twenty years. Thus, he was the "terumah," the representative gift to Hashem, from the entire universe.
Every once in a while we find those individuals who "stand out" and are worthy of being recognized as a "gift" that have been given to the entire community.
This past week we held our biennial Shul dinner. To just say that the event was successful would be an understatement. I think that all those who were there would agree that the overall event, by far, surpassed anybody's expectations. Without question, we owe tremendous gratitude to Bob and Rochelle Rush and their entire committee for all the hours of work and effort that they put into making the evening as extraordinary as it was.
But it doesn't end there.
DOS' current membership stands at approximately two hundred (200) people. One fiftieth (1/50) of two hundred equals four(4).
Dr. Harry Lazarus, Rochelle Lazarus, Roz Ferman and Helen Weiss.
We were all truly "blessed" to have had these four "terumos," these four "gifts," that so well represent the inner soul of the entire DOS membership, being honored this past Tuesday evening.
For all of the work and love that you have previously and will surely continue to pour into our "Jewel of a Shul," we can never thank you enough.
Four shining examples from whom we can all learn how to place the needs of the "tzibur," the community, before our own. Individuals who have proven time and time again that it is NEVER about what "I" want, it is ALWAYS about what "THEY" need.
May Hashem bless them and those who emulate them with physical health, and success in all of their endeavors. May He continuously guide our Shul in the positive direction of spiritual growth, close companionship and true peace.
And most importantly, may He bring this Galus to a quick end, with the coming of the Moshiach, speedily and in our day.
Good Shabbos
Delray Orthodox Synagogue, more commonly referred to as DOS, is a vibrant Modern Orthodox Synagogue serving the spiritual and social needs of its members. DOS provides daily minyanim, Torah learning, and interesting lectures by guest speakers. The very active membership committee is always on the lookout for new members and interesting ways to provide learning in an interactive environment. DOS serves a wide community area surrounding the Oriole shopping center.
We hope you will come and join us for a Shabbos, a service, or one of our weekly lectures.We are confident you will find DOS a delightful and warm environment and one you will look forward to experiencing again and again.
To request info, a change or add something to the site, send feedback, send a message, or inform us of a condolence or a Mazel Tov, Email: Delray Orthodox Synagogue
Thu, 11 February 2016 2 Adar I 5776