Delray Orthodox Synagogue
DELRAY ORTHODOX SYNAGOGUE
"A Jewel of a Shul"
7319 W. ATLANTIC AVENUE
DELRAY BEACH, FLORIDA 33446
561-499-0970
RABBI MENACHEM JAROSLAWICZ
BERNARD LEIBMAN, PRESIDENT
ROCHELLE RUSH, SISTERHOOD PRESIDENT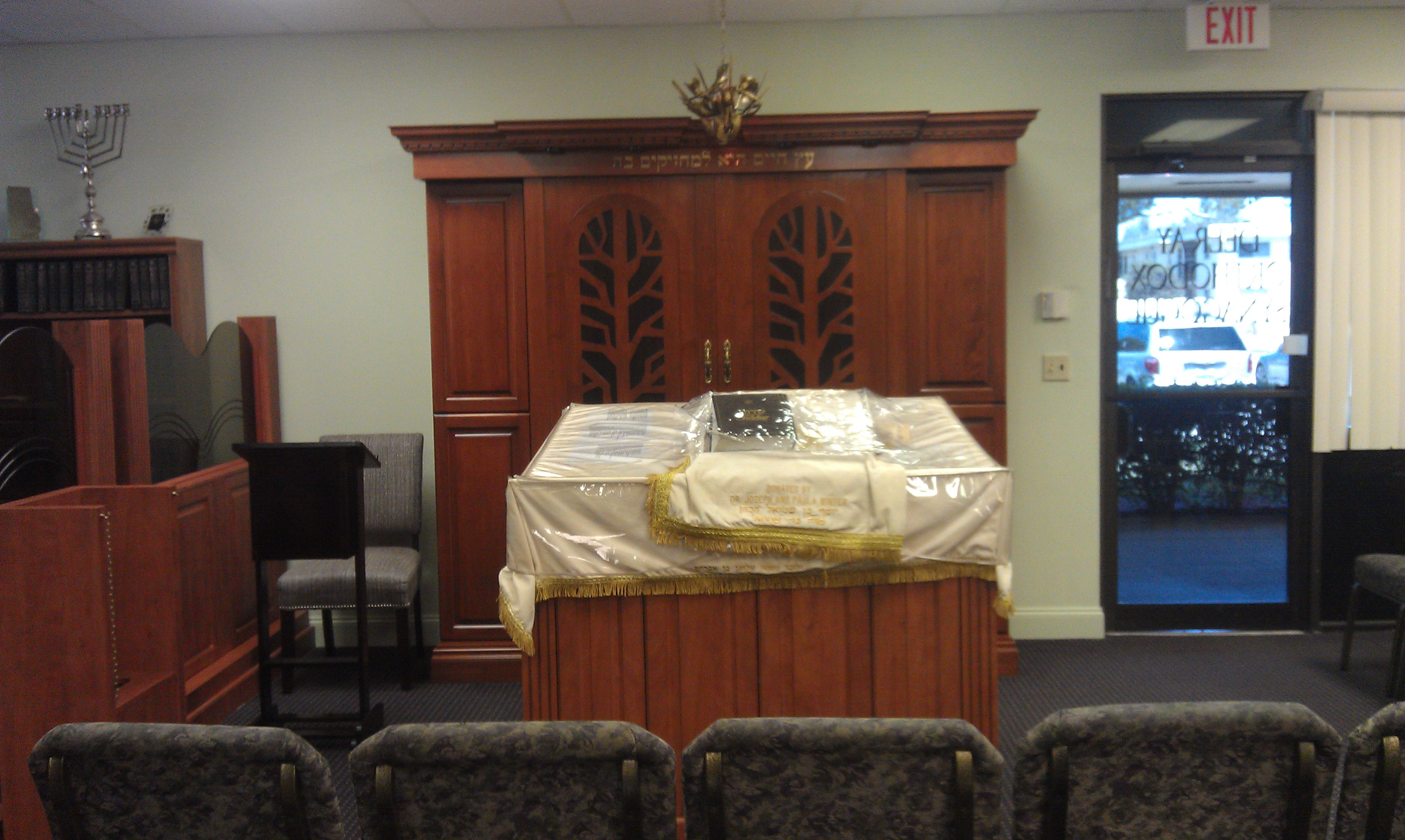 To request info, a change or add something to the site, send feedback, send a message, or inform us of a condolence or a Mazel Tov, Email: Delray Orthodox Synagogue
New Torah Dedication
Click on the following link to view the article
on the dedication of our new Torah by Joe
and Judy Kaufer:

Torah Dedication
Rabbi's message:
To say that we shared a really memorable Pessach this year together in Shul would be a gross understatement.
The Ba'alei Tefillah who so beautifully led the services, the many voices joined in harmonious singing, the spirit that permeated throughout the entire Shul during the davening, combined with the learning, the kiddushim and the overall Simcha, created an atmosphere that left our members, their families and their guests, actually wishing that we could have just one more day of Yom Tov together.
I truly hope that all of you who were not with us for Pessach had as wonderful an experience as we did.
Many of our commentaries teach us that the word Pessach comes from a conjunction of two words, "Peh" and "Sach," meaning "the mouth that relates," or "the speaking mouth."
It is therefore SO ideal that the need to ask questions, the need to teach our children, the need to discuss the Exodus from Egypt, the need to eat so many different things and, of course, the obligation to PRAISE and to give THANKS to Hashem, all evolve around the MOUTH, Peh – Sach.
The ability to communicate is a gift. When two people can talk to each other, and I mean REALLY talk to one another, with respect and admiration, a very special bond is created.
When observed appropriately, Pessach fortifies our power of communication for the entire year.
As important as speech is, there exists something that is much, much more powerful. And that, my friends, is the "Power of Silence!"
When two individuals can communicate a thought to one another by merely saying one or two words, that is, indeed, very deep, and THAT demonstrates the Power of Speech. The closer that you are, the LESS needs to be verbalized.
And then you get to a point that is SO MUCH DEEPER. A place where you are SO CLOSE that NOTHING at all needs to be said, and everything is understood.
This week's Parsha begins with:
"Vayedabair Hashem el Moshe... B'korvasam lifnei Hashem, va'yamusu" [and Hashem spoke to Moshe after the death of Aaron's two sons, when they approached before Hashem, and they died].
The next Passuk begins with, "Vayohmair Hashem el Moshe" [and Hashem said to Moshe...].
The first Passuk uses the word "Vayedabair" [and He "spoke"]. The second Passuk uses the word "Vayohmair" [and He "said"].
Had the Torah worded the opening sentence as, "Hashem spoke to Moshe, saying," then we could conclude that the information following is all part of the same instruction, and that only "one" communication from G-d to Moshe took place.
However, because the Torah begins two consecutive sentences, each with a verb referring to Hashem's speaking, it clearly implies that these were two DIFFERENT communications from Hashem to Moshe.
The problem is that NOWHERE do we see what was said in the FIRST communication. It tells us WHEN it took place, after the death of Aaron's two sons, but it never tells us what was said.
The Ksav Sofer offers the following solution to this mystery.
Chazal debate which transgression brought the death penalty upon Aaron's children.
a.They brought their sacrifice in a drunken state.
b. They determined a Halacha in the presence of their Rebbe, their teacher.
Truth be told, by Torah law, neither of these two Avairos, transgressions, would justify capital punishment. So why did they die?
The answer is that Hashem holds Tzadikim to a much higher standard than He does the rest of the Klal Yisroel. A righteous person's state of elevation makes him more accountable for even the smallest infraction.
An outsider looking at what happened might mistakenly think that these transgressions would bring the death penalty to ANYONE who did them, just as it brought death upon Aaron's sons. So what Hashem said to Moshe in the first Passuk is that Moshe should let it be known that the reason Aaron's children died was, "B'korvasam lifnei Hashem, va'yamusu." They died because of how close they were to G-d, because of what great Tzaddikim they were, and for no other reason.
I would like to add to the Ksav Sofer's thought. Maybe this is why the Torah tells us that, when Aaron heard the news, "vayidom Aaron," Aaron was silent.
Moshe and Aaron's closeness to Hashem was beyond words.
Just as Hashem conveyed a significant message without apparently saying anything -- a communication "Beyond Speech" – so, too, Aaron's response was one of "Silence," a mode of communication so much deeper than speech itself.
There is an old Yiddish saying, "Redden iz zilber, und shvaigen is golt." Knowing when to speak is a tremendous gift. Knowing when to be quiet is even more PRECIOUS.
Have a great Shabbos.
Delray Orthodox Synagogue, more commonly referred to as DOS, is a vibrant Modern Orthodox Synagogue serving the spiritual and social needs of its members. DOS provides daily minyanim, Torah learning, and interesting lectures by guest speakers. The very active membership committee is always on the lookout for new members and interesting ways to provide learning in an interactive environment. DOS serves a wide community area surrounding the Oriole shopping center.
We hope you will come and join us for a Shabbos, a service, or one of our weekly lectures.We are confident you will find DOS a delightful and warm environment and one you will look forward to experiencing again and again.
Fri, 6 May 2016 28 Nisan 5776