Delray Orthodox Synagogue
DELRAY ORTHODOX SYNAGOGUE
"A Jewel of a Shul"
7319 W. ATLANTIC AVENUE
DELRAY BEACH, FLORIDA 33446
561-499-0970
RABBI MENACHEM JAROSLAWICZ
BERNARD LEIBMAN, PRESIDENT
ROCHELLE RUSH, SISTERHOOD PRESIDENT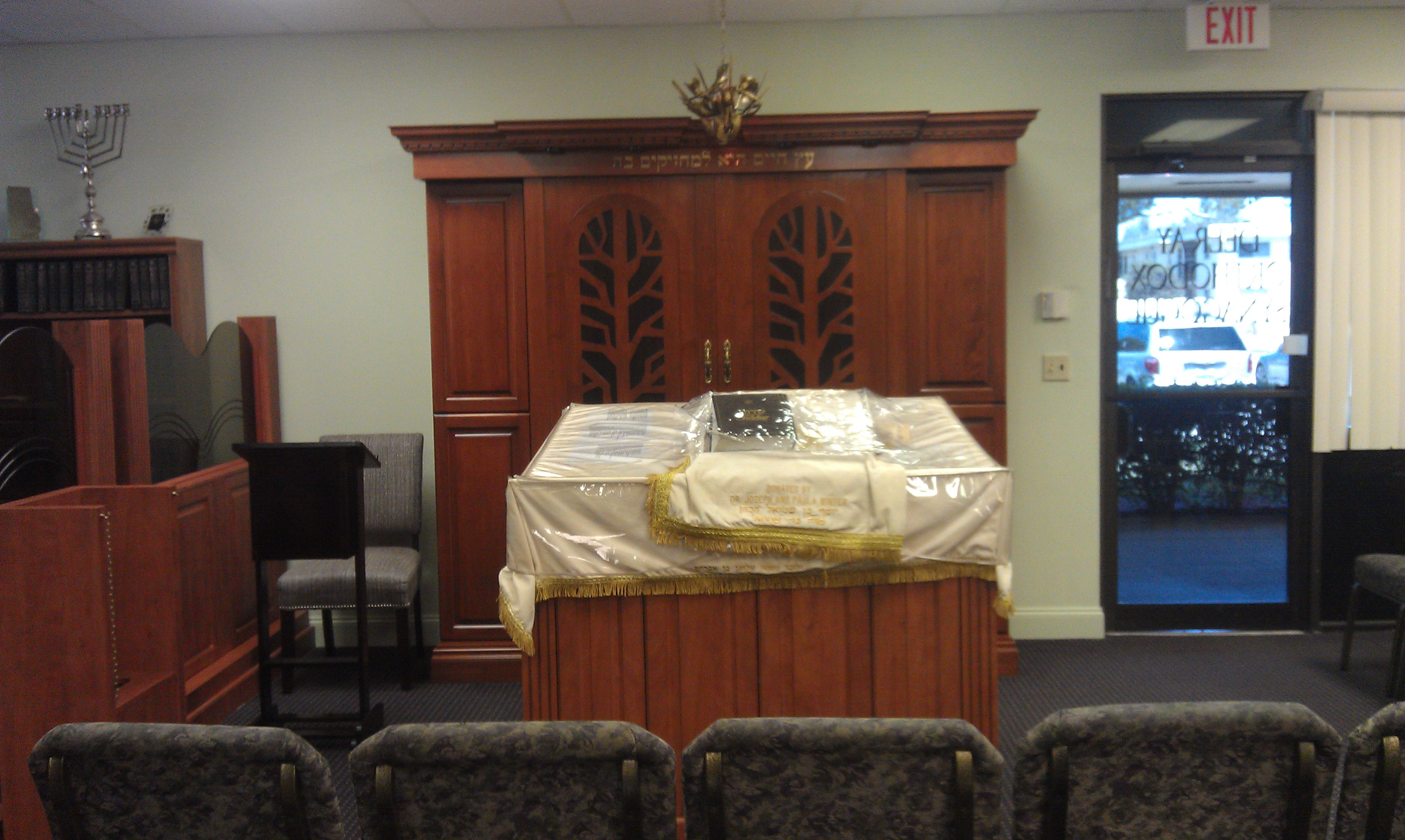 To request info, a change or add something to the site, send feedback, send a message, or inform us of a condolence or a Mazel Tov, Email: Delray Orthodox Synagogue
Rabbi's message:
This week I would like to share with you a D'var Torah that I heard from one of my Rabbayim, Rabbi Aron Zeigler.
PARASHAT PINCHAS- 2016, 5776
"LOVE AT FIRST SIGHT"
Moshe is told, "Go up to this mountain of Avarim and 'see the land' that I have given to the Children of Israel. You will 'see the land' and you will then be gathered unto your people [meaning, you will die]." (27:12-13)
Thus, twice in two Pesukim Moshe is told that he will SEE the land. Then again, in Parashat VeZot Hab'racha [Devarim 34:4], "HaShem said to Moshe, 'This is the land which I swore to Avraham, Yitzchak and Yaakov, saying, "I will give it to your offspring." I have let you SEE it with your own eyes, but you shall not cross over there.'"
What message is the Torah conveying to us about "SEEING" the land?
I heard a beautiful insight from Rabbi Yissocher Frand in the name of Rabbi _____________ Milevsky.
The Jewish people have seven faithful "shepherds": Avraham, Yitzchak, Yaakov, Moshe, Aharon, Yosef and David [the Sukkot Ushpizim]. Each one of these shepherds corresponds to one of the Divine Attributes of the Sefirot (Chesed, Gevurah, Tiferet, Netzach, Hod, Yesod, Malchut).
Avraham Avinu is the father of "Chesed" [kindness]. Avraham teaches us how to perform Chesed in Parashat Vayeira.
Yitzchak manifests the attribute of Gevurah [strength, courage]. He willingly put his neck on the Altar, ready to be sacrificed. This takes a tremendous amount of courage and fortitude. And so each Av has an attribute down the list.
What is the attribute of Moshe Rabbeinu? Moshe is the attribute of Netzach [Eternity], that which lasts forever. Everything that Moshe did in his lifetime became infused with the attribute of Eternity. Whatever he accomplished lasts forever.
He was instrumental in the formation of Klal Yisrael [the Jewish Nation], and Klal Yisrael is LaNetzach [for all Eternity].
Moshe gave us the Torah-and Torah is LaNetzach.
So, whatever Moshe accomplished, remains for Eternity.
This is why Moshe Rabbeinu could not bring the Children of Israel into Eretz Yisrael. Were he to have brought us into the Holy Land, we would never have been driven out and we would never have been dispersed among all the nations of the world.
But, that was not the Divine plan for us. There were things that G-D wanted us to learn from the Goyim, such as select secular wisdoms. And, there are things that they needed to learn from us. This could only happen because we were dispersed and living among them.
Furthermore, G-D knew that the Beit HaMikdash would be destroyed. Had Moshe built it, it would have taken on the attribute of eternity and it could not have been destroyed. (According to many Meforshim, the destruction was for OUR good, too. Better that stones and wood be destroyed for our sins than us as a people!)
HaShem implemented events so that Moshe Rabbeinu could not himself bring us into Eretz Yisrael or build the Beit HaMikdash.
Nonetheless, He DID want Moshe to SEE the land, thereby developing a strong desire and a longing for Eretz Yisrael.
This feeling for Eretz Yisrael, instilled in the heart of Moshe Rabbeinu, HAS BECOME ETERNALLY IMBUED IN THE HEART OF EVERY JEW. Each one of us, in our own way, possesses a connection with a sense of deep longing for Eretz Yisrael. It's in our spiritual DNA!
For many, it is such a strong desire that it motivates them to sacrifice, create hardships for themselves and permanently move to Eretz Yisrael. Even those who do not take that big leap, really mean it when they recite three times a day in Shemoneh Esrei, "Let our eyes see Your return to Zion with mercy."
Where does this emotional connection come from? It comes from G-D asking Moshe to SEE the beauty of the Land and to bond with it -- such that his soul would eternally long to be part of it.
All Jews who expressed "Naaseh Venishma" at Mt. Sinai's Revelation have some of that feeling. Currently, some feel it more than others.
Hopefully, in the near future, we will all unite as one people, and jointly make our final pilgrimage to Eretz Yisroel with the coming of the Moshiach, quickly and in our day.
Shabbat Shalom
Delray Orthodox Synagogue, more commonly referred to as DOS, is a vibrant Modern Orthodox Synagogue serving the spiritual and social needs of its members. DOS provides daily minyanim, Torah learning, and interesting lectures by guest speakers. The very active membership committee is always on the lookout for new members and interesting ways to provide learning in an interactive environment. DOS serves a wide community area surrounding the Oriole shopping center.
We hope you will come and join us for a Shabbos, a service, or one of our weekly lectures.We are confident you will find DOS a delightful and warm environment and one you will look forward to experiencing again and again.
Thu, 28 July 2016 22 Tammuz 5776