Delray Orthodox Synagogue
DELRAY ORTHODOX SYNAGOGUE
"A Jewel of a Shul"
7319 W. ATLANTIC AVENUE
DELRAY BEACH, FLORIDA 33446
561-499-0970
RABBI MENACHEM JAROSLAWICZ
BERNARD LEIBMAN, PRESIDENT
ROCHELLE RUSH, SISTERHOOD PRESIDENT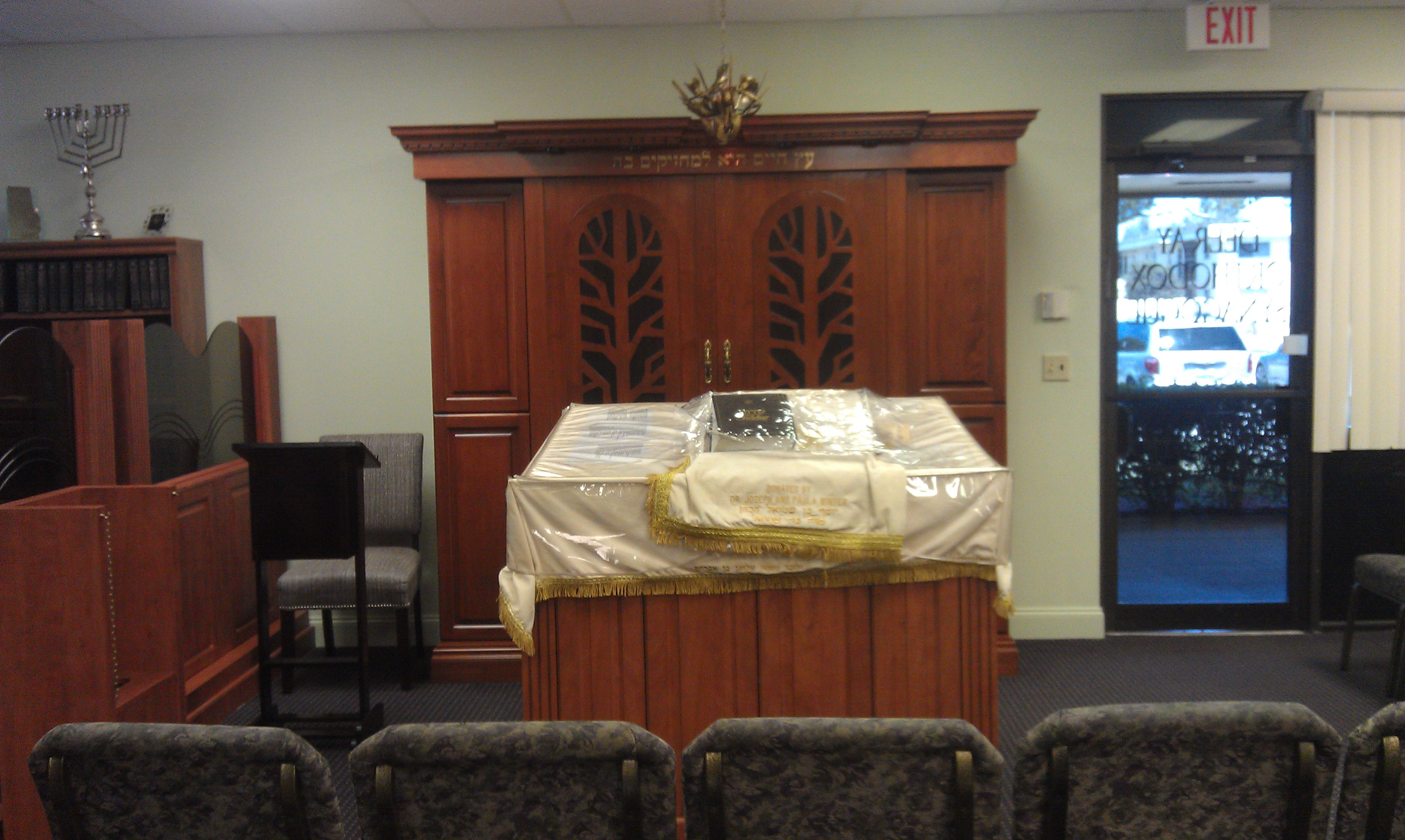 To request info, a change or add something to the site, send feedback, send a message, or inform us of a condolence or a Mazel Tov, Email: Delray Orthodox Synagogue
Rabbi's message:
Our Parsha this week opens with a directive from Hashem to Moshe: "V'aileh ha'mishpatim asher tasim lifnayhem (And these are the judgments that you shall place before them)."
The Gemarah in Sanhedrin: 7b asks: Moshe is being given instruction to teach the B'nei Yisroel all of these commandments that pertain to finance, laws of interaction between man and man, loans, stealing, lying, etc. Would it not be more appropriate to say, "And these are the judgments that you shall "TEACH them," and not say "PLACE before them"?
The Gemarah answers that, when we say "place," we are referring to the "Klai Hadayanim," the "Tools of the Judges."
The Gemarah and Rashi go on to explain that this term means the "sticks" and the "straps" that the courts and its enforcers use to control the guilty.
Therefore, "that you shall place before them" is meant to be understood literally. Place these tools before them, when you begin the case.
The Rabbis ask, "Would it not be sufficient to introduce these whips at the time of the actual judgment and not at the beginning of the trial? Certainly it would seem to be inappropriate to introduce enforcement paraphernalia now, when Moshe Rabbeinu is just educating the Jews about the laws themselves?
The Rabbis answer that, in truth, this action demonstrates the "Chesed," the "Loving Kindness" of G-d in action.
We are living in an age where no "negative" reaction is allowed or tolerated, no matter how offensive the action presented. Everything nowadays is presented only as "good" for society. Even the most morally-despicable acts are being spun as requiring "open-mindedness" to appreciate, as being "sophisticated" and "necessary" for the successful growth of a society.
Do not be fooled by the pressures of the secular world!
The Holy Torah always was, is, and will be, what sets the standards of morality.
Our obligation is to serve G-d from TWO perspectives. One is from Ahava, "love," and the other is from Yirah, "fear." Love is the opportunity to get close to G-d through our actions and bask in His Glory. At the same time, we must be fearful of retribution, of punishment for not fulfilling His Will and following His commandments to the best of our ability.
Because, like it or not, believe it or not, there WILL BE A JUDGMENT DAY!
And while not everybody is expected to do everything, always, and credit is given for trying as best we can, there is NO tolerance in the system for someone who makes fun of others trying to learn to do the right thing.
Learning about Torah and Torah laws is in-and-of-itself, Torah. If you feel that certain Torah laws do not pertain to you, you are entitled to your own opinion -- although you are wrong. But, to criticize someone else for learning Halachos that you feel are beneath "you," is a demonstration of arrogance through ignorance, a horrible combination, and requires Teshuva and forgiveness from both your fellow man as well as from G-d.
This is the "Chesed," the Expression of Love, that Hashem is giving to us by showing us the tools of punishment BEFORE we do anything wrong. The idea is simple. Seeing these whips that Moshe "places" before us is meant to remind us that there is ultimate punishment and that it is appropriate to proceed with some respectful "fear" when addressing G-d, His Torah, His Rabbis, His teachers, His commandments and His children.
If you understand this simple visible demonstration and reminder of punishment, then you will hopefully avoid any scenario that would lead to punishment, and G-d will be able to treat you with just Chesed, love and reward.
Have an elevated Shabbos.
Rabbi Menachem Jaroslawicz
Delray Orthodox Synagogue, more commonly referred to as DOS, is a vibrant Modern Orthodox Synagogue serving the spiritual and social needs of its members. DOS provides daily minyanim, Torah learning, and interesting lectures by guest speakers. The very active membership committee is always on the lookout for new members and interesting ways to provide learning in an interactive environment. DOS serves a wide community area surrounding the Oriole shopping center.
We hope you will come and join us for a Shabbos, a service, or one of our weekly lectures.We are confident you will find DOS a delightful and warm environment and one you will look forward to experiencing again and again.
Sat, 25 February 2017 29 Shevat 5777