Delray Orthodox Synagogue
DELRAY ORTHODOX SYNAGOGUE
"A Jewel of a Shul"
7319 W. ATLANTIC AVENUE
DELRAY BEACH, FLORIDA 33446
561-499-0970

RABBI MENACHEM JAROSLAWICZ
HARRY LAZARUS, PRESIDENT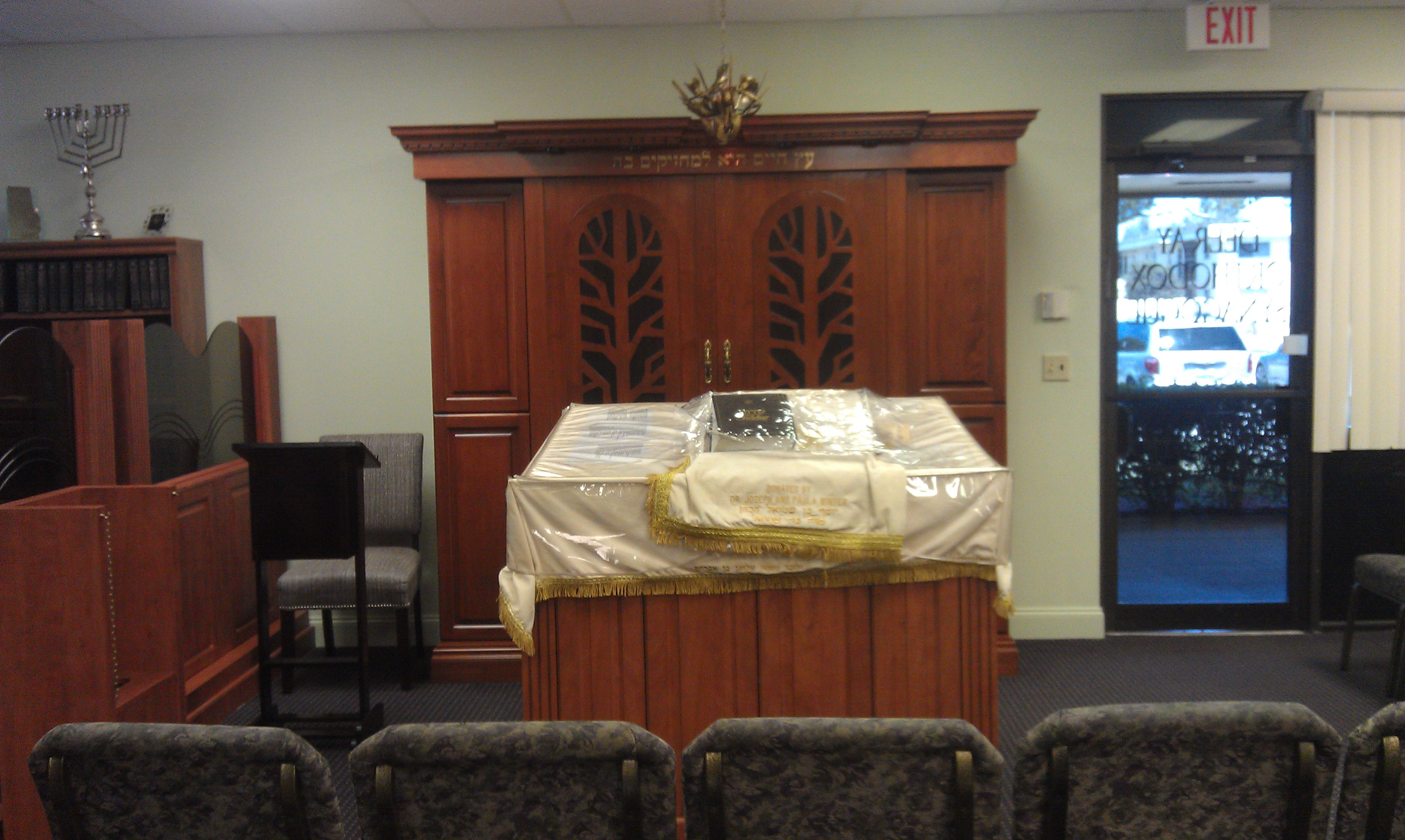 Welcome to the new DOS Website
Just click at the top of the site to login or sign up so you can experience this great new way of interacting with our Shul and the community.
The new website enables you to:
Look up details on your account
Make donations and your account payments online
Update your email information and subscriptions to mailings
Listen to Shiurum and view videos
View the Shul calendar and special holiday information
View pictures of events
You will also have a seamless experience with our web site on your iPhone, Android device or other smartphone. You can read the site's contents, make donations, view the schedule, z'manim and even login to your account to view info, pay bills and more - all while on the go!!!
Rabbi's message:
How time flies.
This is the last Shabbos before the 'New Year 5775' begins on Wednesday night, Im Yirtzah Hashem. If we HURRY, than we still have a few days left in order to get started on LAST YEAR'S New Year's resolutions.
The Passuk in this week's Parshas Nitzavim/VaYelech says the following.
"Re'aye-- Nasati Lefanehcha Hayom Es Ha'Chaim Ve'es Hamaves...."
"See! I have placed before you today, 'life and good', and 'death and evil', that which I command you today, to love Hashem, your G-d, to walk in His ways, and to keep His commandments, His statutes, and His ordinances; and you will live and you will multiply, and Hashem, your G-d, will bless you in the land to which you come, to take possession of it, (Devarim 30:15)."
The Klei Yakar asks. The beginning of this Passuk has two words that seem to be in the wrong order. It says, "I have placed before you today, 'life and good'. The word 'good', should really be before the word 'life'. Doing 'good' is what earns us the merits to continue living in the first place, is it not?
​There was once a Rebba that told one of his disciples that the biggest difference between the two of them was that; The student makes a Bracha in order to eat an apple, while the Rebba eats an apple in order to make a Bracha.
The Klei Yakar answers us that the reversal of these two words is indeed intentional, in order to teach us a valuable lesson. A person's mindset when he does a Mitzvah should NOT be that, "I am doing a good deed in order to get merit and live longer." Our mindset needs to be, "Hashem, please help me to live longer so that I can do more good deeds."
Our Rabbis teach us that on the first night of Rosh Hashanah all the truly righteous people get immediately inscribed in the Book of Life, while all the truly evil people get immediately inscribed in the opposite book. Everyone else in between has the 10 days of Teshuvah through Yom Kippur to have his/her fate determined. If we modify our way of thinking to where we truly want to live in order to do good for others, and we actualize that thought and really DO good for others, then surely Hashem will grant us the benefit of the doubt in all issues and immediately inscribe us for a year of life filled with health, wealth, and the ability to really 'Do Good' for others.
Have a Great Shabbos.
Delray Orthodox Synagogue, more commonly referred to as DOS, is a vibrant Modern Orthodox Synagogue serving the spiritual and social needs of its members. DOS provides daily minyanim, Torah learning, and interesting lectures by guest speakers. The very active membership committee is always on the lookout for new members and interesting ways to provide learning in an interactive environment.
DOS serves a wide community area including Glen Eagles, Vizcaya, Valencia, Kings Point, Huntington Lakes and Towers, Huntington Point, Villa Borghese, and the Villages of Oriole. There is an extensive ERUV covering these communities which has been CERTIFIED. For ERUV STATUS, call 561-499-0970 after 2PM on Friday.
We hope you will come and join us for a Shabbos, a service, or one of our weekly lectures.We are confident you will find DOS a delightful and warm environment and one you will look forward to experiencing again and again.
To request info, a change or add something to the site, send feedback, send a message, or inform us of a condolence or a Mazel Tov, Email: Delray Orthodox Synagogue
Fri, 19 September 2014 24 Elul 5774